Welcome to VANGUARD!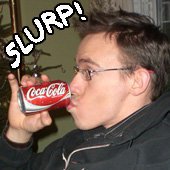 Dan Butcher
Dan started, as do a lot of comic artists, by drawing and creating characters and comic strips at an early age. Studying art through school and after he ended up earning a degree in Illustration and Design.
After a short career as an animator (where he realised drawing the same image over 200 times wasn't for him), he defected to the 'Dark Side' and began working as a graphic designer, which he now does as his 'proper' job.
Dan has worked on various webcomics including
Retake, Death Boy, Heroes Alliance/Unite, Acrobat,
and Curse of the Black Terror, among others.
He currently writes and illustrates his own superhero webcomic, Vanguard, which you are looking at right now.

Comic book work to date:
Retake with David Brett Anderson (writer)
Death Boy with Ian Austin (writer)
Heroes Unite/Alliance with various artists/writers
Reynard City with with various artists/writers
If you wish to get in touch, please use the form below!
[contact-form][contact-field label='Name' type='name' required='1'/][contact-field label='Email' type='email' required='1'/][contact-field label='Comment' type='textarea' required='1'/][/contact-form]
All work on this website is © Daniel Butcher unless otherwise noted. Please do not use without permission!